MEANING OF PORCH AND ITS IMPORTANCE IN THE HOUSE
The main function of porches is to increase the aesthetic beauty of the structure and plays an important role in a building. The porch is the structure provided in a building to have a shelter cover.
The porch is constructed in the front section of the structure. A porch constructed in a house helps to increase functionality. A porch also protects users from rainwater and wind. It adds a relaxed and enjoyable space to the user.
The porch is broader and the verandah is a type of porch. The porch is surrounded by the meshes on its sides whereas the veranda is an open air space with a roof.
Purpose of A Porch:
It is the first thing the guests can see at your home.

It can add an aesthetic value to your home.

You can enjoy outdoor times on a porch.

It shelters you from rain and heavy winds.

It adds to the grandeur of the home if designed properly.
The porch expands the aesthetical view of the structure.

It adds a space for you where you can relax and enjoy.
Different Types of Porch:-
Open Porch

As the name suggests, Open Porches are actually open- they do not have an enclosure on either side. Floors are either concrete or wooden floors or slabs. However, it can be supported by a roof from the top. As the sidewalls are absent in this type of porch, it is more like an outdoor area. The roofing material is supported over the columns. Here you can enjoy the breeze and bask in the natural atmosphere………………..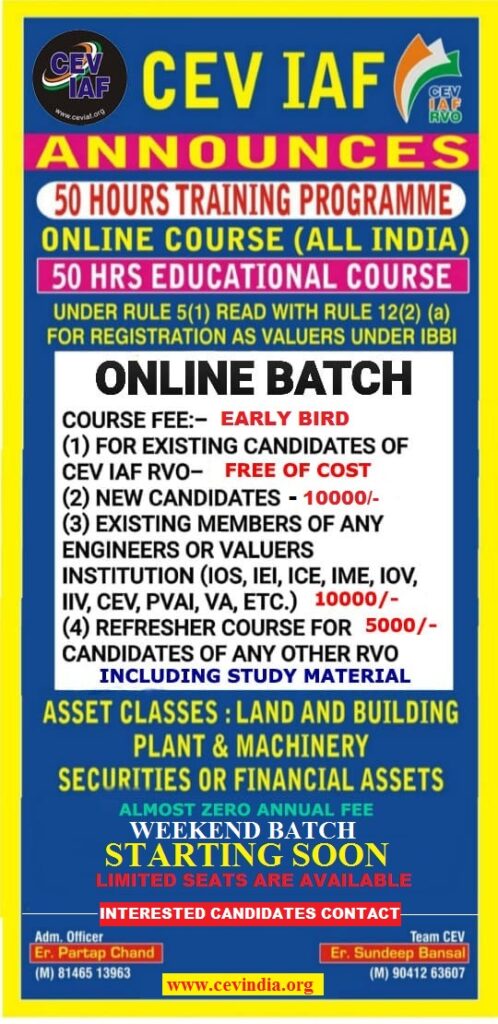 FOR MANY MORE  UPDATES AVAILABLE CLICK BELOW 
CLICK THE BELOW LINK TO READ THE COMPLETE CONTENTS
SOME CONTENTS OF THIS WEBSITE ARE FOR GOLD SUBSCRIBERS ONLY.
Join us as a GOLD SUBSCRIBER and get access to read important books.
KIND ATTENTION
We are going to close all what's groups of CEV soon due to difficulties in posting information or message in more than 5 groups of CEV at a time.
All future posts of empanelment notices & professional importance will be shared on
1. https://t.me/+dbHNkNO22xsyYTY1
2. www.valuerworld.com
3. The Twitter handle of CEV India
https://twitter.com/cevindia?t=XbqlvnwUVz1G3uPgs749ww&s=09
after closing the groups.
All members of these groups are requested to register themselves at the following link immediately for Getting all related timely updates…