CIVIL CONSTRUCTION AND ROLE OF  CIVIL ENGINEERS- ALL YOU NEED TO KNOW
Civil construction falls in the category of civil engineering which is all about designing, constructing and maintaining the physical and naturally built environment.
Civil construction is the art of building bridges, dams, roads, airports, canals, and buildings. Civil engineering is the oldest disciplines of engineering. Since the very beginning of the human existence, it has been the aspect of life. One of the main aspects of civil construction is structural engineering. It helps in designing the structure in a way that it is able to support itself successfully along with resisting loads. The stability of the design will serve as the foundation of civil construction.



In today's society, there are huge projects meant for civil construction and engineering. The infrastructure used in our daily lives all has been created because of civil construction and engineering. The roads, railways, stadiums, harbors, schools and other buildings constructed all are a contribution of civil engineering…….
CLICK BELOW FOR MORE DETAILS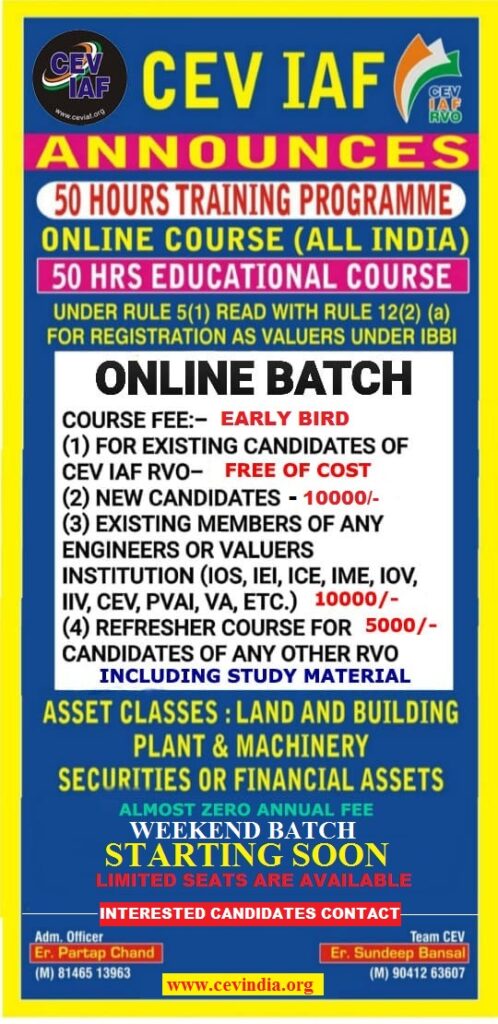 FOR MANY MORE  UPDATES AVAILABLE CLICK BELOW 
CLICK THE BELOW LINK TO READ THE COMPLETE CONTENTS
SOME CONTENTS OF THIS WEBSITE ARE FOR GOLD SUBSCRIBERS ONLY.
Join us as a GOLD SUBSCRIBER and get access to read important books.
KIND ATTENTION
We are going to close all what's groups of CEV soon due to difficulties in posting information or message in more than 5 groups of CEV at a time.
All future posts of empanelment notices & professional importance will be shared on
1. https://t.me/+dbHNkNO22xsyYTY1
2. www.valuerworld.com
3. The Twitter handle of CEV India
https://twitter.com/cevindia?t=XbqlvnwUVz1G3uPgs749ww&s=09
after closing the groups.
All members of these groups are requested to register themselves at the following link immediately for Getting all related timely updates..